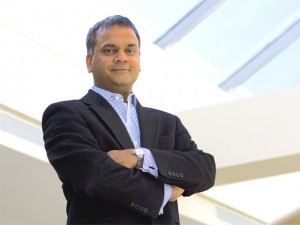 As the Founder and CEO of mPortal, a mobile company that delivers integrated experiences across multiple connected devices for its clients, D.P. Venkatesh is a busy guy. We caught up while he was on the go, taking my call from his cell phone, which seemed only fitting as we discussed changes, challenges and innovations in the mobile world.
When looking back at the last ten years, D.P. sees the biggest change as what he calls "the consumerization of technology." In the early days of mobile, consumers used their devices primarily to make calls. "The big feature was either roaming or coverage and [it was] a very voice-centric world, which is what the consumer wanted ten years ago. But consumer expectations have increased where the users no longer want –they demand smartphone capability. They demand higher speed and bandwidth. They demand ubiquity of coverage… The whole concept of anytime, anywhere on any device is not [just] a pretty Power Point slide. The consumer knows that they can get it and therefore they expect more from service providers, mobile operators and even consumer electronics players."
If he didn't exactly predict this shift, D.P. certainly anticipated a sea change. "mPortal clearly [was] early to the market when we launched in 2000, but now our time has come." While consumers have started to demand more, the service providers, mobile operators and consumer electronics players must deliver. Enter mPortal. "We think the future's not just mobile; it's connected devices."
When it comes to mobile, users often think of cell phones and tablets, but D.P. sees connected TV as "a very important part of [mobile] consumer electronics." In a recent interview with WashingtonExec, he described it this way:
The television experience we know today is very passive or leaned back– you sit there on your couch and you watch TV. But as connected TVs develop, the TV experience will begin to mimic how we experience the web – you lean forward and interact.
As a mobile solutions company, mPortal's software platform, called SPRINGBOARD®, "makes it very easy to deliver content and applications across the three mediums of connected devices." In fact, mPortal is launching a service with Comcast that would enable text messaging on a connected television. Want to let the family know you just ordered delivery for dinner? Simply text "Pizza's on its way" and have the message go right to your TV.
When we discussed some of the challenges mobile companies face today, D.P. mentioned two. "When we're looking at smaller players, start-ups, entrepreneurs… one challenge is the business models are changing very, very rapidly." D.P. went on to describe the landscape as littered with different business models: free ad-supported, pay-per-use, subscription, packages, etc. As businesses grapple with finding the right approach, it can be difficult for "smaller players to have the wherewithal to go through many twists and turns of their business model."
And challenge number two? Consider it the dark side of the consumerization of technology. "There's a fascination in the mobile industry with having gadgets and toys. There's a huge attraction towards the next shiny object." From the early days of touch screen to voice-activated Siri today, D.P. pointed out that "these are all enabling technologies. But you have to look at your target segment. What is it that your consumers face?" He advises businesses to not be too "fascinated or fixated by technological advances." Companies can
get caught up in technology for technology's sake and "being sucked into technology doesn't always play out well in the end," D.P. says.
Leveraging technology works best, however, when companies let their business model lead the innovation. "As opposed to saying 'Oh we have a business and then we build a website,' I think that really innovative businesses are looking at [mobile] and saying 'How can we use mobile horizontally to completely re-engineer and transform our business?'… That's where I see the future. It's not a one-size fits all. But I think the real impact will come from businesses that do that."
When asked for examples of companies innovating, D.P. mentioned Square, which makes a device that plugs into any tablet and instantly transforms it into a retail point-of-sale terminal. "They have really made a credit card transaction process very simple. That's a great example of using mobile technology in a very modern way."
D.P. also mentioned Facebook, more than a third of whose traffic comes from mobile devices. "Facebook is starting to really do innovative things in mobile and I think we're just seeing the tip of the iceberg there… Even though people don't look at them as a mobile company – I look at them as an indefinitely large mobile player based on the consumer behavior trends."
When talking about mPortal's evolution, D.P.'s passion came through. "If you look at our SPRINGBOARD® platform and where we see it evolving is – we started off saying 'let's target the industries that are most
impacted by and also early adopters of mobile and connected device technologies.'… [Now] we see ourselves going across more and more devices." Their current focus is on clients that include mobile operators, cable companies, and content networks, where there is "huge potential for [mPortal] to up their vertical indexes." But down the line, mPortal may expand to other industries as well.
"I think one of the things that excites us at mPortal is we're sitting at this intersection point. On the left hand side we work with mobile operators and cable operators who very much have an operator or network-centered view of the world. And they're entering into the space and they say 'Hey, what are our assets? We're a large network, with large capital expenses and we've deployed connectivity networks everywhere.' They look at companies like us and see how SPRINGBOARD® can help them leverage their existing assets and move them into mobile. And on the right hand side you have companies like Facebook where we're integrating into their open social grab and we can leverage all of the things that we know about a person from their Facebook profile. But then what we also bring to bear is an inherent deep understanding of consumer electronics, mobile platforms, connected TVs and operating systems."
All of which adds up to delivering any content, anywhere, anytime to any device. More than just a pretty Power Point slide, indeed.
To learn more about mPortal and get their take on the connected mobile landscape, check out their blog, The Connected Experience.